Colour TV Trainer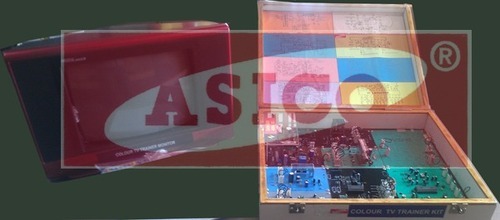 Colour TV Trainer
Product Description
COLOUR TV TRAINER
This trainer has been designed with a view to provide theoretical and practical knowledge of a general REMOTE COLOUR T.V. on SINGLE P.C.B. of size 19"x15 with FAULT CREATING FACILITIES to create more than 75 faults.
FEATURES
The complete circuit of Remote Colour T.V is printed on single PCB.
1. All parts are soldered on single pin tag for easy replacement and fault creation.
2. Fault creation facilities are provided by removing jumpers, by rotating presets, by tuning coils, by adjusting trimmers and by changing parts
3. About more than 75 faults can be demonstrated on this trainer.
4. Section wise different coloured screen printed circuit on the PCB for easy understanding of functions of different sections.
5. Typical ICs are provided on sockets to provide facility to check similar other ICs and also to create The faults by inserting faulty ICs in the sockets.
6. Explanation, Observation, Alignment and adjustment of internal and External controls is possible at a glance due to single PCB.
7. Easy identification of different parts of Remote COLOUR T.V at a glance.
8. Easy measurement of Voltages and observation of waveforms at any point. Also typical voltages and waveforms are provided.
9. A manual having 30 practicals is provided with this trainer.
10. The whole circuit of Remote Colour TV is explained section wise in detail in the manual.
SPECIFICATIONS
1. System : CCIR-B-PAL-G, 625 lines.
2. Power supply : 230V + 15% AC, 50 Hz.
3. Regulation range : 195V AC to 265V AC.
4. Power consumption : 70 watt
5. Gain Limited sensitivity : 60 Db for Video. 30 Db for Audio.
6. Sound output : 5.0 watts maximum.
7. Picture Tube size : 53cms (Diagonal) Full Flat square tube FFST
8. Tuner Channels : VHF 2 to 12, UHF 21 to 68, S-band and Hyper-band.
9. Tuner Channel Positions : 106 Channel positions.
10. Program Memory : 90 programs.
11. On Screen display for setting of all controls e.g. Volume, Brightness, Contrast, Colour, Channel and band selection Tuning.
12. Remote Controller is in trainer form.
13. Audio - Video In and Out sockets.
14. Sections : Operating unit and Tuner, Remote Receiver, Video I.F., Sound I.F., Colour decoder, Video amplifier, Horizontal oscillator, Horizontal driver and output, S.M.P.S, Vertical Oscillator, Picture tube, Remote transmitter.
15. Controls : Volume, Brightness, Contrast, Colour, Channel and band
selection, Tuning.
16. Remote Control functions : Volume, Brightness, Contrast, Colour, Channel selection,
Audio mute
17. Distortion : 10 to 15% in Live program due to expanded P.C.B.
Standard Accessories :
1. Trainer P.C.B.
2. Picture tube fitted in molded cabinet.
3. A Manual having 30 practicals.