Digital Control System Trainer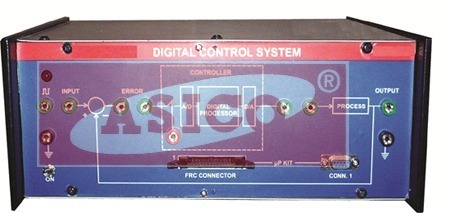 Digital Control System Trainer
Product Description
DESCRIPTION

Classical control theory dealing with analog compensation networks, PID controller and tachogenerator feedback invariably finds a place in engineering curriculum. These are also the most common systems in use today. On the other extreme, highly complex and sophisticated computer controlled systems employing optimum, adaptive and learning algorithms find application in guided missiles, space vehicles and the like. With the availability of low cost computing power in form of 8- and 16-bit microprocessors and Digital Signal Processor (DSP) chips, it has become possible to take advantage of digital control even for relatively simple application

TECHNICAL SPECIFICATIONS

Second order simulated process (analog process).
Built-in D/Aand A/D circuits (8-bit).
8085 based p kit as digital controller with user software in 8K EPROM.
16-bit arithmetic for algorithmic calculations.
16 built-in levels of P, I and D gains each. Complete flexibility for the
user to develop own software.
Square wave test input (internal).
Built in IC regulated power supplies.
220V 10%, 50Hz mains operated.
User's Manual with patch cords.