EPABX Trainer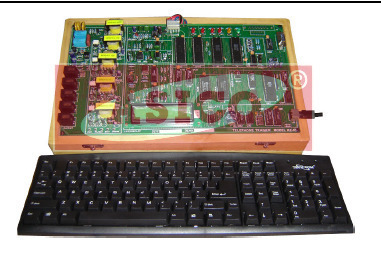 EPABX Trainer
Product Description
EPABX Trainer
EPABX is a single board EPABX TRAINING KIT configured around the most popular Microcontroller 89C51. It can be used to trained the Engineers about the architecture of EPABX.
This EPABX trainer have the provision to use 1, 2 or 3 trunk lines & 4, 6 or 8 extension lines respectively. Locking & other facilities are provided in this trainer same as normal EPABX. This trainer can perform the following functions such as use the password to protect the call Extension to Extension call, Hold, Call transfer, Call pick up, Call parking, Call forwarding, Redial, Call control, Conference, Do not disturb etc.
SPECIFICATIONS
Based on 89c51CPU.
Provision for upto 1 trunk Line & 3 extension lines.
IBM PC Compatible Keyboard for using commands.
20 x 2 LCD Display.
Complete circuitry of EPABX is on board.
Working in 2 Modes: Trainer Mode | EPABX Mode
Explanation, Observation, Alignment and adjustment of internal & external controls is possible.
Programme for different section can be written in RAM.
Programs written by user are executable.
Standard EPABX specification.
70dbm Cross Talk Attenuator.
Telephone Instruments (Optional).
LIST OF EXPERIMENTS
Redial
Extension to Extension Call
Paging
To hold a line
Call consult
Call parking
Call forwarding busy
Talk trunk to extension
Call pickup
Call transfer
Trade Information
Asia, Australia, Central America, North America, South America, Eastern Europe, Middle East, Africa

All India