LCR / AC Bridge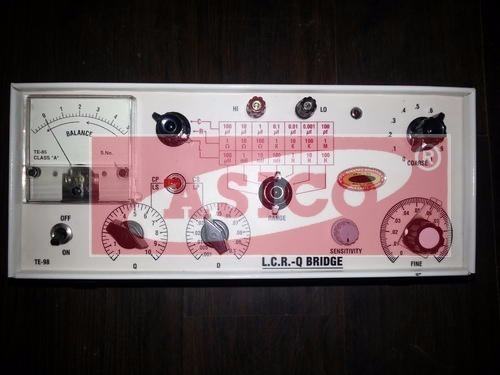 LCR / AC Bridge
Product Description
LCR / AC Bridge

A bridge is the name given to donate a special class of measuring circuits . They are more often used for making measurement of resistance ,capacitance, inductance. Bridge measurement of resistance is more accurate than other conventional method. In fact conventionally meters are calibrated on bridges only.This bridge uses the conventional

Schering method of nulling AC parameters. AC Bridge Type AC10 is a compact, general purpose transistorised impedance bridge, that brings new versatility to the rapid determination, with one percent measurement accuracy, over a wide range of resistance, capacitance and inductance value. It offers very good discrimination and resetability, wide range loss balancing for better accuracy of measurements.

FEATURES

All the resistors used in the multiple switch are accurate to better than 0.1% which ensures better measurement accuracy of component value.
The meter amplifier is a FET based differential amplifier having very high input impedance which makes measurement of high resistance values more accurate.
Sensitivity of the meter amplifier can be controlled in steps which enhances the nulling process.
The bridge has two sources of excitation; A DC source comprising of a regulated supply of 9 V for resistor measurement and an AC source comprising of an inbuilt oscillator of 1KHz for measurement of inductor, capacitor and resistors.
Fine adjustment control are also provided which indicate the quality of the component under test.
Meter zero adjust is provided at the back panel for nulling any offset caused by any temperature changes etc.
A thumbwheel switch replaces the conventional rotary switches as the latter are more tiresome to operate.
Inductance Measurements :
Min : 0.2 micro Henry
Max : 110 H or more
Range : 0.2 micro Henry to 110H in 8 ranges of
10 micro Henry to 10 Henry full scale
Accuracy : + 1% for greater `Q' coils
Capacitance Measurements :
Min : 1 pF
Max : 1110 micro Farad or more
Range : 1pF to 1100 micro Farad in 8 ranges of 1pF to
100 micro Farad full scale
Accuracy : + 1%
Resistance Measurements:
Min : 50 milli Ohms
Max : 10 Megohms or more
Range : 10m ohms to 11 Mohms in 8 ranges of
0.1 ohm to 10 Mohms full scale
Accuracy : + 1%
Trade Information
Africa, Middle East, Western Europe, Eastern Europe, South America, North America, Central America, Australia, Asia

All India