Lissajous Figure Apparatus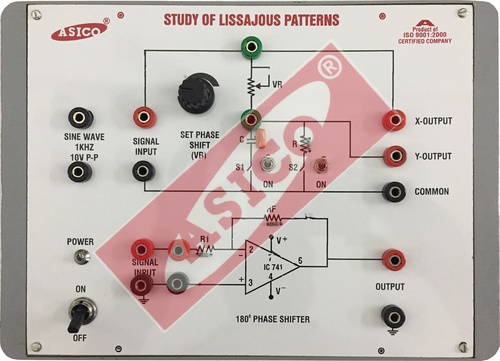 Lissajous Figure Apparatus
Price And Quantity
Product Specifications
Product Description
Lissajous Figure Apparatus

Objective : To Study of Lissajous Patterns Apparatus has been designed to study the various Lissajous figures when sine wave signals of same frequency differs in phase.

Features : Fixed Output DC Regulated Power Supply of +15V. Builtin Sine Wave Oscillator of 1 kHz frequency. Capacitor & resistance are mounted behind the front panel selectable through SPDT switches with connections brought out on sockets. One potentiometer (S) is mounted on the front panel to change the phase difference. One operational amplifier IC 741 is placed inside the cabinet with connections brought out on sockets for 180Phase Shift.