Magnetic Susceptibility By Gouys Balance Experiment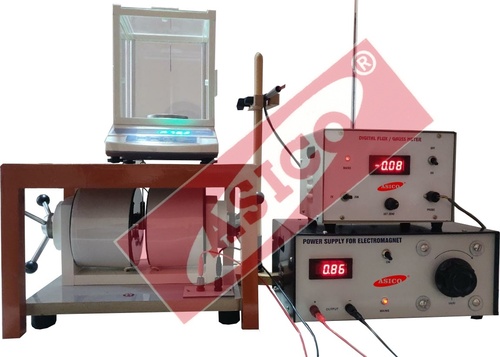 Magnetic Susceptibility By Gouys Balance Experiment
Price And Quantity
Product Specifications
Product Description
Magnetic Susceptibility By Gouys Balance Experiment
The principal of operation of this experiment is magnetic susceptibility which can be explained as a dimensionless proportionality constant which can be used to measure the degree of magnetization of a material relative to an applied magnetic field on the same. Is simple words it can also be termed as magnetizability, the proportion between magnetic moment and magnetic flux density.
Features:
 ELECTROMAGNET - Made of soft iron, specially design for Hall Effect experiments, mounted on a wooden base for stable performance, Pole pieces :- 50mm dia. tapered type Field :- 7.5kg at 10mm. air gap, Energizing Coils :- Two coils each with total resistance of 10 ohms(approx).
DIGITAL POWER SUPPLY FOR ELECTROMAGNET- 0 - 6Amp, 60V digital display, Itis a constant current power supply, with long time operation and continuously variable current.
DIGITAL GAUSS METER: Range: 0-2 K Gauss & 0-20 K Gauss, Resolution: Gauss at 0 2 K Gauss Range, 3 Digit, 7 Segment LED, Power: 220V, 50Hz Special Feature: Indicates the direction of the Magnetic field.
Digital BalanceÂ
Set of 2 samples, Aluminium, Brass
Specification
| | |
| --- | --- |
| I Deal In | New Only |
| Color | Black |
| Packaging Type | 1 set |
| Type | Digital |
| Model Name/Number | AE 229A |
| Material | metal |
| Usage/Application | Laboratory Instruments |