Multiplexer and Demultiplexer 16 bit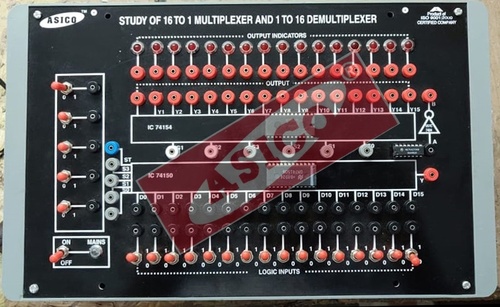 Multiplexer and Demultiplexer 16 bit
Product Description
Study of 16 to 1 line Multiplexer & 1 to 16 line Demultiplexer
Multiplexer & Demultiplexer has been designed to study the different type of a Multiplexer & Demultiplexer.
Types of Multiplexer
2:1 Multiplexer.
)4:1 Multiplexer.
8:1 Multiplexer.
(16:1 Multiplexer.
Types of Demultiplexer
1:2 Demultiplexer.
1:4 Demultiplexer.
1:8 Demultiplexer.
1:16 Demultiplexer.
The instrument comprises of the following built in parts :
Fixed output DC Regulated Power Supply of 5Volts.
Twenty One (21) SPDT switches are provided on the front panel to select Logic '0' & Logic '1' inputs.
16 Output Indicators (LED's) are provided on the front panel to observe the output status.
IC's 74150 & 74154 are mounted on the front panel and important connections are brought out on sockets.
Trade Information
Africa, Middle East, Western Europe, South America, North America, Central America, Australia, Asia

All India