Vaccum Tube Volt Ohm Meter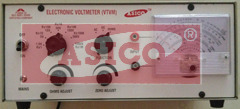 Vaccum Tube Volt Ohm Meter
Product Description
Measurement of AC & DC voltages from 1.5 to 1500 Volts FSD in 7 ranges. Input impedance 10Mohm for DC, 1Mohm for AC at low frequencies.

Frequency Response :10 Hz to 500 KHz.
Accuracy for AC/DC Voltages : 3 % of range. Measurement of Resistance from 0.2 ohm to 1000Mohm in 7 decade steps with ohm to 10Mohm center scale.
Accuracy for Resistance Range : 5% of center scale unto 1M ohm.